Ginger Hancock
Certified Chiropractic Assistant
Certified First Line Therapy Nutrition Consultant
B.A. Education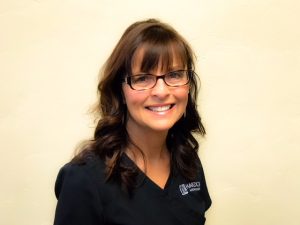 "It is a blessing to work with David and our staff. As a team, we bring together all of our strengths and we see so many patients achieve better health. This makes "work" much more than a job!"
Ginger and Dr. Hancock have worked together their entire married life. She utilizes her background in nutrition and education to assist patients in maintaining good health. Her recommendations include a lifestyle plan that works long term, not a diet. Thanks to the exceptional business talents and training from her mother, Ginger also handles the business end of the practice.
Dr. Hancock and Ginger love living in Ginger's hometown of Prescott and spending time with their family and friends.
---
Melanie Root
Certified Chiropractic Assistant
Office Manager
"We have the best patients! I love getting to know them and it is always exciting to watch them improve under Dr. Hancock's care."
Melanie Root is the Office Manager of the Hancock Healthcare Clinic of Prescott. She has been assisting our patients since December of 2007 and loves every minute of it! Melanie first met Dr. Hancock when she brought in her sons for care. She has always appreciated the applied kinesiology and gentle chiropractic that Dr. Hancock offers and it was definitely a great day when we were able to add her to our team. Melanie uses her background as a business owner and health enthusiast to handle all aspects of our business office. She is always ready to assist our patients in any way she can and is excited to share the many types of treatment that are now available in our clinic.
Melanie is a wife, the mother of four adult children and grandmother to two fabulous girls. She enjoys doing anything and everything with her family.